September 21 every year is World Alzheimer's Day. Alzheimer's is the most common cause of dementia among older adults. Dementia is the loss of cognitive functioning – thinking, remembering, and reasoning – and behavioral abilities to such an extent that it interferes with a person's daily life and activities. Halmstad University is part of a European initiative called Remind which develops technical solutions that can help patients with dementia and their relatives in everyday life.
Martin Cooney, a social robotics researcher at Halmstad University, is the local coordinator of Remind:
What is Remind?
"Remind is a four-year EU project involving staff exchanges between various partners from academia and industry in eight countries, within the area of reminding technologies for dementia and smart environments."

What is the goal for Remind?
­"The goal is to facilitate networking, training, and knowledge transfers through staff exchanges. For example, developers can learn about the user perspectives, and vice versa."

How can this help a patient with Alzheimer's?
"Participating staff are involved with various development and research projects, aimed to eventually contribute to a better quality of life for patients with Alzheimer's. Currently we have, or are soon expecting, six people from Italy, Ireland, Norway, and Colombia at Halmstad University, and we are sending out three people to Spain soon."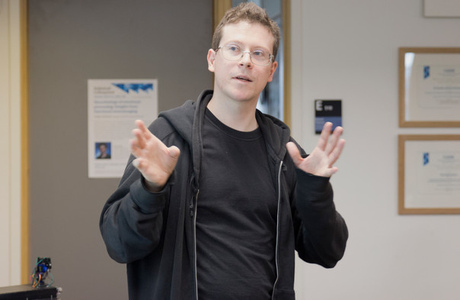 Examples of researchers within Remind and their projects
Usman Akhtar from Kyung Hee University, Korea, intends to at Halmstad University investigate a fog architecture for transfer learning related to activity recognition in smart homes. The goal is a better ability to monitor, share data, and provide timely reminders for patients with dementia.
Linda Ong from I+ srl, and Giovanni Nicoli from Associazione Novilunio, Italy, are interested in solutions involving robotic technology. For example, Linda has at Halmstad University started to incorporate sentiment analysis with a medical model of dementia into an interaction with a robot, which can provide appropriate and engaging reminders.
Dr. Jane Walsh, Director of the mHealth Research Group at National University of Ireland, Galway, and Dr. Riitta Hellman, Chairman Of The Board at Karde AS, Norway, work with users, in terms of behaviour change and tools for users with cognitive disabilities, respectively.
Dr. Miguel Angel Ortiz Barrios, coming to Halmstad University from Universidad de la Costa (CUC) in Colombia, works with data analytics (specifically statistical methods) and multi-criteria decision making.
Dr. Martin Cooney from Halmstad University has been working with thermal cameras as a way to infer medicine intake, and designs for socially assistive therapy robots, aimed to help meet a need for care which cannot currently be met due to lack of human healthcare workers.
Text and photo: LOUISE WANDEL, Halmstad University